Landing Webpage For A Children's Storybook
Gabo Gabo is a landing web page for a children's storybook. The aim of the landing page is to draw in visitors, teach them about the big 5 wild animals in a fun way and convert them into loyal fans who buy the book.
User Interface (UI) design
Prototype
Storyline, character design & content writing
How do we create a fun landing page that teaches the audience (the young and young at heart) about the big 5? The second challenge: how can we spark interest in learning that will lead to conversion of the storybook being ordered and purchased?
The first step was finding the right characters for the book. I chose bright vibrant characters to represent each of the big 5 animal and one character; a monkey to tell the story. Because after all, who beats a monkey at being a chatter box? The illustrations used grab the attention of our main audience and keeps them engaged simply by the way they look.
For the typeface and colors I used Poppins. I find it to be sleek yet simple san-serif that's easy on the eye. As for the colors, different variations of green and orange were used to give the whole layout a vibe of nature, growth and warmth.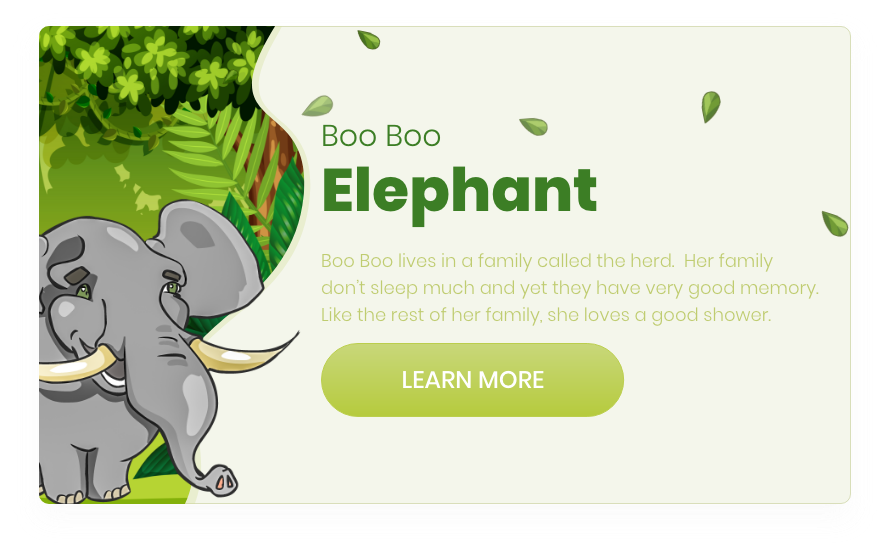 I then researched and picked fun facts about each of the animals represented and presented them in an easily digestible copy. The content is clear and concise and easy to recall.
Finally, by adding subtle parallax effect and using simple animations like falling leaves and nature-based colors, I was able to create the landing page. The page then ends with a bright colored CTA (call to action) button to buy the book.
Illustrations by vecteezy.com
Project inspiration: Adobe XD Masterclass Episode 6 "Fun Landing Page" by Howard Pinsky.